I never knew people cared so much about colors.  Heck, this color thing stressed me out so much because deep down I really didn't care enough.
When people hear "I'm engaged!" the first thing they say is "let me see the ring!"   The second?  "What are your colors?"
Do girls spend their life dreaming of their wedding colors?  Because within hours of getting engaged that's what I kept getting asked.  "Uh, I don't know, I haven't thought of it yet…"
So here I was, losing sleep over colors.  I knew one thing for sure — I wanted to wear red shoes and have a red bouquet.
Blue is my favorite color, and I also love red.  Black is considered of bad form for a wedding in Brazil (not so much for the attendants, but definitely for the wedding party).  I'm not a pastel color kind of girl, so if I picked blue, the whole freaking thing would look like the American flag, and the last thing I wanted is to make my wedding look like a 4th of July party.
At first I thought of asking everyone to wear red — black suits with red ties would look great, so it's easy.  But I also REALLY didn't want to pick a dress and force my bridesmaids to wear what I like.  I would hate for them to get a dress they didn't like and never planned on wearing again.  So I could pick a designer and color, and let each one choose their own, right?  Not so easy — two of my bridesmaids are in Brazil and there's no way to guarantee that they could find the exact same shade of red there.  And different shades of red?  Totally noticeable in pictures.
Then my mom freaked "the church will have a red carpet on the aisle, your bridesmaids can't match the carpet!"
Since I didn't care enough to argue, I then went back with blue.  I searched so many different sites, looked at so many pictures.  Personally, I absolutely love Alfred Angelo's "tealness" color: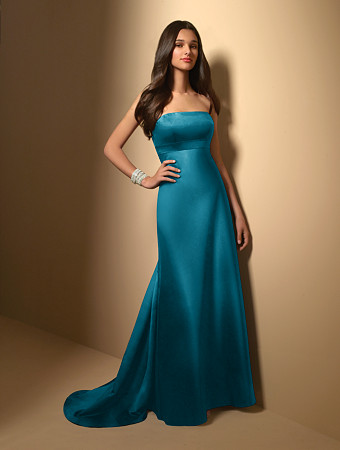 But the closest Alfred Angelo store is pretty far of a drive, and how exactly can I expect the girls in Rio to find a color that will match?
My mom wasn't too crazy about me picking a color either — in Brazil the tradition is that every bridesmaid wears a different color, they're supposed to not match.  But I wasn't too keen on this idea.
After weeks of agonizing (about colors, seriously), I finally settled on it!  Blue it is.  But not a specific blue — any blue.  Each girl can pick whatever blue dress they like, as long as they each wear a different shade of blue, dark or light, doesn't matter.  Weddings are very formal in Brazil, so my only specification is that they wear a long gown, a blue dress, and silver sandals (also, whatever type floats their boat).
The guys?  Are all wearing a navy blue tie with their suits, except Karl's tie is a bit more royal blue to stand him out (plus, he'll be sporting a tux).  The navy tie and black suits should match any shade of blue the girls wear.  The girls wearing different shades will also avoid the 4th of July party feel I feared.  And the best part?  It will combine both the American tradition of choosing a color with the Brazilian tradition of the girls not matching.
How will it look like?  Well, David's Bridal site has a great nifty tool called "dress your wedding" and though the picture below doesn't really reflect how our bridesmaids and groomsmen look like, or even what kind of dresses they'll be wearing, it gives an idea of how all the different shades will look together:
If you're already married, how did you pick your colors?  And for the single girls out there — do you already know what your wedding colors will be?